The ORIGIN Center in Chiangmai: Lanna House Complex

The ORIGIN Chiangmai arts courses are held in a complex of traditional Thai houses on the grounds of the Chiangmai University Center for the Promotion of Arts and Culture.
The spacious park-like setting includes six traditional houses which were brought from various towns and villages in the Chiangmai area, and rebuilt here. There are also two rice storage houses. he houses provide a good introduction to Lanna architecture, and at the same time they are a beautiful and pleasant environment for studying the arts.

One Day or Half Day programs
In Chiangmai ORIGIN offers traditional arts programs focused on the Lanna style arts of the old northern capital The one day program incorporates a morning Orientation, followed by classes in five arts. The core arts are Marayaat (Etiquette), Lanna Dance, Music, Flowers, and Cooking. However, depending on the interests of the group, this could be varied to include Textiles.

The program includes fresh fruit and coffee breaks, and a buffet lunch. The ideal group size is 10 to 20 students, but we provide special programs for larger or smaller groupWe also offer a half day program, with classes in three arts.

Details of the Program

Orientation and Tour of the Grounds
When the guests have arrived, Ajarn Vithi gives them a tour of the grounds, guiding them to the different houses and explaining the architecture from the point of view of traditional culture: how did people live in these houses, and how did that impact the way their societies were structured? During the Orientation and Tour, we give guests an overview of Lanna culture. Later, we provide more details on each of the arts in a brief talk at the beginning of each class.


Marayaat (Etiquette)
Marayaat (Etiquette) is very important for Thai culture, not only in the central plains, but also in Lanna. Guests learn the various types of wai (clasped hands greeting), how to sit, walk, receive and give things.

Music
Lanna music is a very rich tradition, with instruments, tunes, and rhythms coming from the Mekhong region's many tribes and ethnic groups, plus influences from Myanmar, China, and central Thailand.

Lanna Dance
Ajarn Vithi explains the different levels of this music: village courting rituals, trance dances, and the elegant dance of the royal Lanna court. Participants learn basic hand gestures, and see performances of the different types of dance.

Flower Offerings
Lanna has a tradition of flowers using folded banana leaves, inside of which are placed flowers for offering on the altar. In the class, guests learn the basics of making these offerings, called Suai Dohk in Lanna dialect.

Lanna Cooking
Northern cooking focuses on organic natural ingredients: various types of savory rice (especially traditional sticky rice), garlic, onions, spices, chopped crab, leaves, and vegetables -wrapped in banana or bai toey leaves and braised over a fire.

Textiles
Lanna and the Mekhong region have an very well-developed tradition of textiles, with dyeing techniques, threads, and styles of weaving which vary by region and ethnic group. In the Arts Program, we learn the northern style of batik dyeing.

Coffee Braek & Lunch


Ajarn Vithi Phanichpant
Ajarn Vithi Phanichpant has taught at the Chiangmai University Faculty of Fine Art for 25 years, in the areas of textiles, ceramics, architecture and traditional arts. He has a BA in Fine Arts and a Masters in Environmental Design from the University of California at Los Angeles, and teaches and lectures directly in English.

Ajarn Vithi is an expert on Lanna and Mekong basin arts and culture, Thai textiles, traditional South East Asian lacquerware, and South East Asian history. He is also an specialist in organizing traditional events and festivals, along with fine quality thai dance presentations. He successfully carried out several conservation projects on Buddhist architecture and mural painting recently with the US Ambassador Fund in Thailand.

He is supported in the ORIGIN Chiangmai programs by a number of arts masters from Chiangmai University as well as other local experts.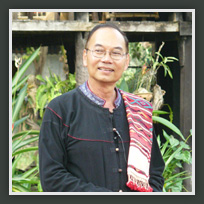 Party in Chiangmai
Participants get the most out of the ORIGIN program if they have a chance to attend a Final Party. They see in action everything they've studied during the day: flower offerings, dance and music, and the food they've learned how to cook.
Dance performance
After wine and cocktails, guests are able to see a variety of Lanna and Mekhong region dances, performed with accompaniment by an orchestra of traditional instruments.
Dinner
The Lanna-style dinner is served on khantoke (traditional round serving stand), with wine and cocktails.
Decoration
The complex is decorated with traditional Lanna lanterns, textiles, candles, mats, and khantoke stand for eating, creating a festive and magical atmosphere.
Origin Arts Programs in Chiangmai

For more information please contact : originbangkok@gmail.com